FN Herstal will be showcasing its newly developed FN® HUD (Head up Display) sighting system, at Eurosatory 2016. This system features the latest advances in digital electro-optics and is the fruition of FN Herstal's continued investment in digital technology.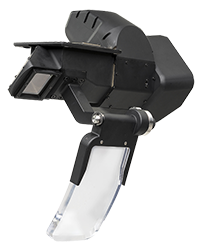 The FN® HUD is a state-of-the-art digital weapons suite that vastly improves the accuracy of pilots when firing axial mounted rockets and machine guns on rotary wing aircraft. The FN® HUD also improves the capability of pilots with a lightweight optical projection head and an FN® HUD computer for advanced ballistic calculations and digital control. Through this interface the FN® HUD can also communicate with other avionic systems, such as the mission computer, the Armament Management System and the LRF for improved ballistic correction capability.
Much more than a targeting system, the FN® HUD features include compatibility with NVIS night vision goggles, integrated laser rangefinder, weapons inventory and status information, high reliability with no moving components and backwards mounting compatibility with legacy targeting systems. This outstanding range of features mean the FN® HUD is expected to perfectly suit armed forces demand for improved accuracy and capability of their rotary winged fleet.
The FN® HUD's unveiling at Eurosatory 2016 will be the first time it has been shown as a fully functional three unit system to the defense and security industry. It will be on display alongside FN Herstal's other new innovations at FN Herstal booth – Belgian Pavilion, Hall 6, Booth no. F 197 – June 13 through to 17, 2016.